Main content starts here, tab to start navigating
PLANTA | Yorkville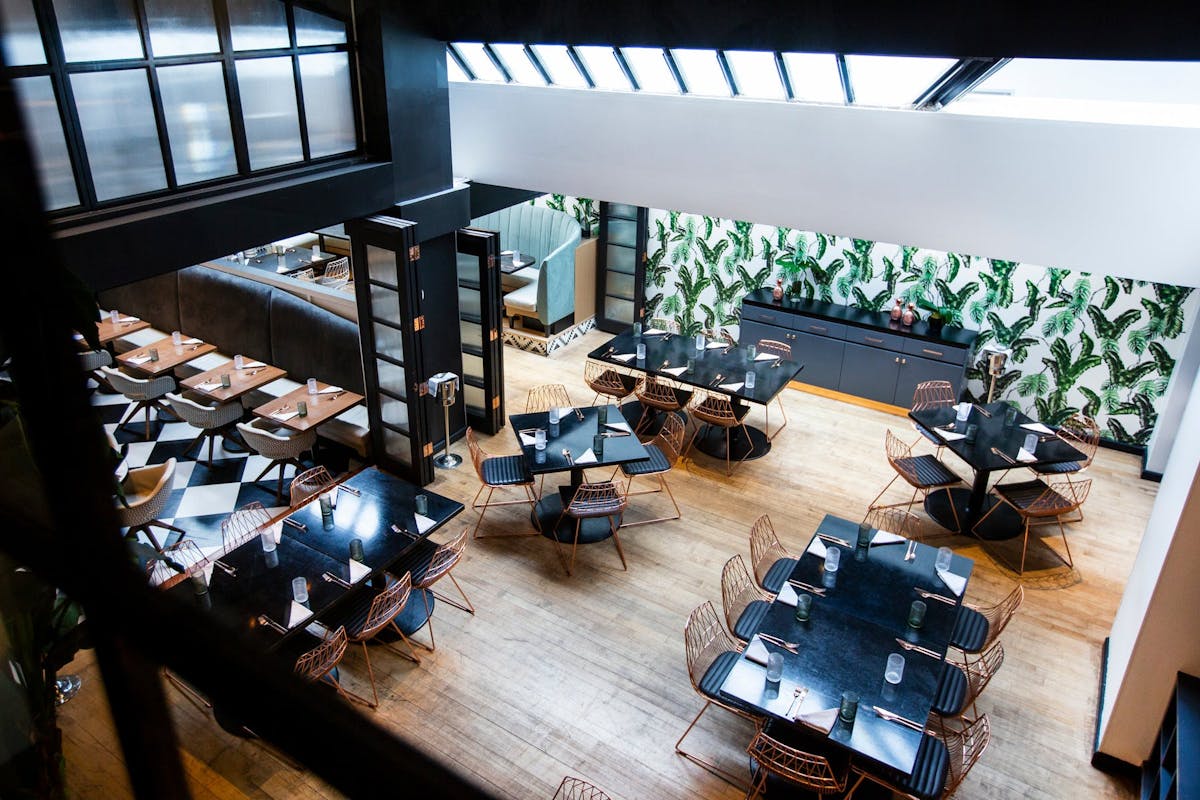 Menus
Plant Power Lunch
Choose 1 starter + 1 signature from the below | cookie included | add dessert | sips as priced
Download PDF
Sushi
UNAGI EGGPLANT NIGIRI (2 PIECES)

miso truffle

AHI WATERMELON NIGIRI (2 PIECES)

ginger, citrus soy

CRISPY RICE

spicy ahi watermelon, avocado

SPICY TUNA ROLL

ahi watermelon, avocado, toasted coconut

TORCHED AND PRESSED

avocado, miso truffle glaze

DRAGON ROLL

tempura broccoli, spinach, avocado, spicy unagi sauce
Snack & Share
BABY GEM CAESAR

mushroom bacon smoked tempeh, almond parmesan, pickled onion, capers

contains nuts

FUNGHI SALAD

gem lettuce, candied tomatoes, avocado, buttermilk dressing

BAO SLIDER

chick'n fried mushroom, hoisin, pickled cucumber

BANG BANG BROCCOLI

sweet chili, peanut sauce

contains nuts

SPINACH SHIITAKE DUMPLINGS

black bean, chili ginger vinaigrette

1000 LAYER CRISPY POTATOES

caviar, sour cream, chives
The Weekly Line-Up
MAKI MONDAY

maki rolls | unlimited maki rolls (after 5pm)

POUR DECISION WEDNESDAY

1/2 priced bottles of wine (all day)

WEEKEND BRUNCH

for endless mimosas & sake sangria
Signatures
AVOCADO LIME TARTARE

beetroot tuna, pine nuts, capers, citrus soy, sesame, cilantro, taro chips

contains nuts

PAD THAI SLAW

kelp noodles, green papaya slaw, lemongrass, coconut, cilantro, peanut sauce

contains nuts

PLANTA BURGER

lettuce, tomato, queso, onion, pickle, mustard, mayo served with truffle fries or salad

THAI LETTUCE WRAPS

shiitake mushrooms, tofu, lemongrass, crispy rice noodles, cilantro, nuoc cham

SPICY LUMACONI PASTA

tomato rosé sauce, cashew mozzarella, almond parmesan, calabrese chili

contains nuts

SPAGHETTINI CARBONARA

mushroom bacon, smoked tempeh, cracked pepper, almond parmesan

contains nuts

THE ITALIAN SANDO

focaccia, maitake, eggplant, red peppers, grilled onions, ricotta, arugula, basil, balsamic

WATERMELON TZATZIKI SANDWICH

alfalfa, basil, balsamic

THE BIG GREEN

focaccia, hummus, avocado, sprouts, zucchini, pepperoncini

LEE'S CHOPPED SALAD

tomato, corn, sprouts, cabbage, peanuts, goji berries, turmeric vinaigrette

contains nuts
Sips
VIETNAMESE ICED COFFEE

condensed coconut milk, espresso

SPECIALTY LATTES

Golden Milk: oat milk, turmeric, cinnamon, black pepper

Drop the Beet: espresso, oat milk, beet powder

It's a Matcha: oat milk, matcha powder

LOOSE LEAF TEA

jasmine green, Moroccan mint, chamomile

Cold & Refreshing

Hibiscus Iced Tea

Oolong Passion Fruit Iced Tea

Mint Blueberry Jasmine Iced Tea

Cucumber Mint Lemonade
Signature Cocktails
2oz
TROPIC LIKE IT'S HOT (FOR TWO - 4OZ)

tequila, aperol, pineapple, coconut, lime

KYU-KIKI

japanese whiskey, black sugar, ginger and angostura bitters

PEACH DON'T KILL MY VIBE

gin, peach liqueur, cranberry, kombucha, lemon

HERB YOUR ENTHUSIASM

thai chili-infused tequila, lime, pineapple, mint, thai basil

KOMBUCHA MOJITO

rum, berries, mint, lime, berry kombucha

LAVENDER SOUR

gin, lime juice, simple syrup, aquafaba
Free Spirits
non-alcoholic & agua frescas
VERY DARK & STORMY

activated charcoal, lime, fever tree ginger beer

CUCUMBER MULE

seedlip garden 108, cucumber, thyme, rosemary, ginger beer

MISO MANGO SOUR

lyre's dark cane spirit, seedlip grove 42, lemongrass, madagascan vanilla, orange blossom, lime

SINGAPORE SPRITZ

lyre's orange sec, red citrus, exotic spices, sparkling grapefruit

CANTALOUPE CUCUMBER AGUA FRESCA

mint tea, agave, lime

PINEAPPLE SAGE AGUA FRESCA

agave, lime
Cold-Pressed Juices
GREEN REMEDY

celery, cucumber, lemon, lime, spinach, kale, ginger

TURMERIC SUNSHINE

pineapple, apple, orange, turmeric, lime

PLANTA PUNCH

pear, beet, apple, ginger, lemon
Beer
ACE HILL PILSNER

16oz

LEFT FIELD GREENWOOD IPA

355ml

GODSPEED CZECH LAGER

355ml

BURDOCK TUESDAY SAISON

355ml

BURDOCK VERMONT BLONDE

355ml
Bubbles & Rosé
ROSÉ

norte sur, la mancha, spain, 2018

CAVA BRUT

parés baltà, penedès, spain, nv

CAVA ROSÉ

parés baltà, penedès, spain, nv

CHAMPAGNE

taittinger, france, nv
Whites & Skin Contact
CHARDONNAY

miguel torres, chile, 2019

VIOGNIER

vino de la tierra de castilla, spain, 2020

PINOT GRIGIO

fidora, veneto, italy, 2020

SAUVIGNON BLANC

ant moore, marlborough, nz, 2020

RIESLING (ORANGE)

maximum, niagara, on

RIESLING

cave spring cellars, ontario, 2018

CHENIN BLANC

beaumont, walker bay, south africa, 2021

CHARDONNAY

cloudsley, niagara, ontario, 2018

CHABLIS

domaine de mauperthuis goutte de lune, france, 2018
Reds
MONTEPULCIANO APPASSIMENTO

passi reali, italy, 2020

MALBEC

domaine bousquet, argentina, 2020

TEMPRANILLO

lobetia, castilla-la mancha, spain, 2020

PINOT NOIR

les carabènes, pays d'oc, france, 2020

CINSAULT / SYRAH

pearce predhomme, south africa, 2021

CABERNET SAUVIGNON

hayes valley, california, usa, 2019

MERLOT

pago aylés, aragón, spain, 2019

CABERNET SAUVIGNON

pablo claro, castilla la mancha, spain, 2019

CABERNET SAUVIGNON

ramsay, california, usa, 2019
saturdays + sundays + holiday mondays
available until 3 pm
Download PDF
SOMETHING TO SIP
VIETNAMESE ICED COFFEE

condensed coconut milk, espresso

LOOSE LEAF TEA

jasmine green, moroccan mint, chamomile

LATTES | CAPPUCCINO

GOLDEN MILK

oat milk, turmeric, cinnamon, black pepper

DROP THE BEET

espresso, oat milk, beet powder

IT'S A MATCHA

oat milk, matcha powder

BRUNCH COCKTAILS

BLOODY MARY

MIMOSA

SAKE SANGRIA

ENDLESS MIMOSAS & SAKE SANGRIA

(ends at 4PM)
SUSHI
UNAGI EGGPLANT NIGIRI (2 PIECES)

miso truffle

AHI WATERMELON NIGIRI (2 PIECES)

ginger, citrus soy

MUSHROOM BACON INARI (2 PIECES)

yuzu kosho

CRISPY RICE

spicy ahi watermelon, avocado

TORCHED AND PRESSED

avocado, miso truffle glaze

DRAGON ROLL

tempura broccoli, spinach, avocado, spicy unagi sauce

SPICY TUNA ROLL

ahi watermelon, avocado, toasted coconut
CHILLED & RAW
OVERNIGHT GRAINS

quinoa, oats, chia, banana, peanut butter, strawberry, cornflake granola

contains nuts

PAD THAI SLAW

kelp noodles, green papaya slaw, lemongrass, coconut, cilantro, peanut sauce

contains nuts

BABY GEM CAESAR

mushroom bacon, smoked tempeh, almond parmesan, pickled onions, capers

contains nuts

AVOCADO LIME TARTARE

beetroot tuna, pine nuts, capers, citrus soy, sesame, cilantro, taro chips

contains nuts

FUNGHI SALAD

gem lettuce, candied tomatoes, avocado, buttermilk dressing
SNACK & SHARE
BAO SLIDER

chick'n fried mushroom, hoisin, pickled cucumber

CINNAMON BUN

maple syrup

DEVILED EGG LETTUCE CUPS

avocado, dill, sprouts, pickled onion

LATKES & CAVIAR

sour cream, apple sauce

BANG BANG BROCCOLI

sweet chili, peanut sauce

contains nuts

SPINACH SHIITAKE DUMPLINGS

black bean, chili ginger vinaigrette

WHIPPED RICOTTA

warm bread, truffle, agave drizzle
BRUNCH SIGNATURES
BANANA WAFFLE

roasted pecans, maple syrup, chocolate sauce

contains nuts

FRENCH TOAST

cornflake granola, berry compote, maple syrup

LOADED BREAKFAST SANDWICH

potato chorizo, eggs, cilantro, hot honey, shoestring onions

THE ITALIAN SANDO

focaccia, maitake, eggplant, red peppers, grilled onions, ricotta, arugula, basil, balsamic

contains nuts

AVOCADO FLATBREAD

tomato, pickled onions, olive oil, almond parmesan, cilantro, arugula

contains nuts

THAI LETTUCE WRAPS

shiitake mushrooms, tofu, lemongrass, crispy rice noodles, cilantro, nuoc cham

PLANTA BURGER

lettuce, tomato, queso, onion, pickle, mustard, mayo served with truffle fries or salad

contains nuts

SPICY LUMACONI PASTA

tomato rosé sauce, cashew mozzarella, almond parmesan, calabrese chili

contains nuts
PIZZA
MARGHERITA

tomato sauce, cashew mozzarella, garlic, basil

contains nuts

HAWAIIAN

bbq sauce, cashew mozzarella, pineapple, smoked tempeh, red onion, pickled jalapeños, ranch

contains nuts

VODKA

tomato cream, cashew mozzarella, basil pesto, chili bomba

contains nuts

LEEK BIANCA

garlic cream, cashew mozzarella, mushroom bacon

contains nuts

SPICY CHORIZO

tomato sauce, cashew mozzarella, potato chorizo, onion, hot agave

contains nuts
Sushi
UNAGI EGGPLANT NIGIRI (2 pieces)

miso truffle

AHI WATERMELON NIGIRI (2 pieces)

ginger, citrus soy

MUSHROOM BACON INARI (2 Pieces)

yuzu kosho

CRISPY RICE

spicy ahi watermelon, avocado

SPICY TUNA ROLL

ahi watermelon, avocado, toasted coconut

TORCHED AND PRESSED

avocado, miso truffle glaze

DRAGON ROLL

tempura broccoli, spinach, avocado, spicy unagi sauce

RAINBOW ROLL

ahi watermelon, slaw, avocado, gochujang, peanuts

contains nuts
Chilled & Raw
+4 add crispy tofu, crispy mushroom or avocado
CHILI CRISP TOFU

kimchi, radish, scallions, sesame, szechuan soy, taro sticks

AVOCADO LIME TARTARE

beetroot tuna, pine nuts, capers, citrus soy, sesame, cilantro, taro chips

contains nuts

PAD THAI SLAW

kelp noodles, green papaya slaw, lemongrass, coconut, cilantro, peanut sauce

contains nuts

FUNGHI SALAD

gem lettuce, candied tomatoes, avocado, buttermilk dressing

BABY GEM CAESAR

mushroom bacon, smoked tempeh almond, parmesan, pickled onion, capers

contains nuts
Snack & Share
BAO SLIDER

chick'n fried mushroom, hoisin, pickled cucumber

CAULIFLOWER TOTS

truffle almond parmesan, truffle aioli

contains nuts

WHIPPED RICOTTA

warm bread, truffle, agave drizzle

1,000 LAYER CRISPY POTATOES

caviar, sour cream, chives

BANG BANG BROCCOLI

sweet chili, peanut sauce

contains nuts

SPINACH SHIITAKE DUMPLINGS

black bean, chili ginger vinaigrette

contains nuts
Signatures
PLANTA BURGER

lettuce, tomato, queso, onion, pickle, mustard, mayo

served with truffle fries or salad

contains nuts

THAI LETTUCE WRAPS

shiitake mushrooms, tofu, lemongrass, crispy rice noodles, cilantro, nuoc cham

SWEET PEA GENOVESE

campanelle pasta, creamy basil pesto, rapini, sweet pea

SPICY LUMACONI PASTA

tomato rosé sauce, cashew mozzarella, almond parmesan, calabrese chili

contains nuts

UDON NOODLES

truffled mushroom cream, shaved black truffle

SPAGHETTINI CARBONARA

mushroom bacon, smoked tempeh, cracked pepper, almond parmesan

contains nuts

NO-NOODLE LASAGNA

spinach, polenta, zucchini, eggplant, tomato sauce, cashew mozzarella

contains nuts
Pizzas
+3 for gluten-free dough
MARGHERITA

tomato sauce, cashew mozzarella, garlic, basil

contains nuts

VODKA

tomato cream, cashew mozzarella, basil pesto, chili bomba

contains nuts

LEEK BIANCA

garlic cream, cashew mozzarella, mushroom bacon

contains nuts

HAWAIIAN

bbq sauce, pineapple, cashew mozzarella, smoked tempeh, red onion, pickled jalapeños, ranch

contains nuts

SPICY CHORIZO

tomato sauce, cashew mozzarella, potato chorizo, onion, hot agave

contains nuts
The Weekly Line-Up
MAKI MONDAY

(After 5pm)

Maki Rolls

Unlimited Maki Rolls

POUR DECISION WEDNESDAY

(All Day) 1/2 priced bottles of wine

WEEKEND BRUNCH

$25 for endless mimosas and sake sangria
FORGET-ME-NOTS
TRUFFLE FRIES

almond parmesan

contains nuts

CHICK'N FRIED MUSHROOMS

chili sauce

ROASTED BROCCOLI

chili crunch
BIG COOKIE

add a scoop of ice cream

KEY LIME CHEESECAKE

coconut whip, lime zest, oat crust

CHOCOLATE BROWNIE

vanilla ice cream, amarena cherry, peanuts, chocolate fudge

contains nuts

HOUSEMADE ICE CREAMS AND SORBETS

seasonal flavors
Sips
'TINIS

espresso: vodka, espresso, vanilla, cinnamon

dirty: vodka, castelvetrano olive brine

lychee: gin, lychee, lemon

MEZ-CAL ME MAYBE

mezcal, ginger, passionfruit, lime

SELECT WINES

SELECT BEER
Snacks
CRISPY MUSHROOM HAND ROLL

wasabi, avocado, gochujang, pickled ginger, unagi

SPICY TUNA HAND ROLL

ahi watermelon, avocado, toasted coconut

CAESAR CUPS (3 PIECES)

baby gem, pickled onion, almond parm, garlic dressing

contains nuts

NASHVILLE HOT TOFU BAO (2 PIECES)

pickles, lettuce, ranch

CHICK'N FRIED MUSHROOMS

nuoc cham

CAULI' KRACK

sweet chili mayo, sesame, unagi

SPINACH AND ARTICHOKE DIP

cashew mozzarella, tortilla chips

contains nuts
FAQ
Is PLANTA Yorkville a vegan restaurant in Toronto?
PLANTA Yorkville is 100% plant-based.
Why plant-based?
We champion plant-based living as a way to better our health, our communities, and our planet.
Do you have gluten-free items?
Yup. Our gluten-free and vegan Yorkville restaurant items at PLANTA include vegan gluten-free sushi, gluten-free vegan pizza, most of our "Chilled & Raw" items, and more. Your server will be happy to help you navigate the menu.
What kind of plant-based pizza do you have?
Our signature woodfired plant-based vegan pizza in Yorkville is topped with cashew mozzarella and more.
What are your most popular dishes?
The Bang Bang Broccoli has a cult following (and its own merch), but don't sleep on the veggie burger or our lineup of the best vegan sushi in Yorkville, either.
Where in Yorkville is PLANTA?
We're at 1221 Bay St., Toronto, ON M5R 3P5, Canada. Our cross streets are Bay St and Bloor St W.
Where can I park?

The closest parking is located at 44 Charles Street West.