Main content starts here, tab to start navigating
PLANTA Queen | Fort Lauderdale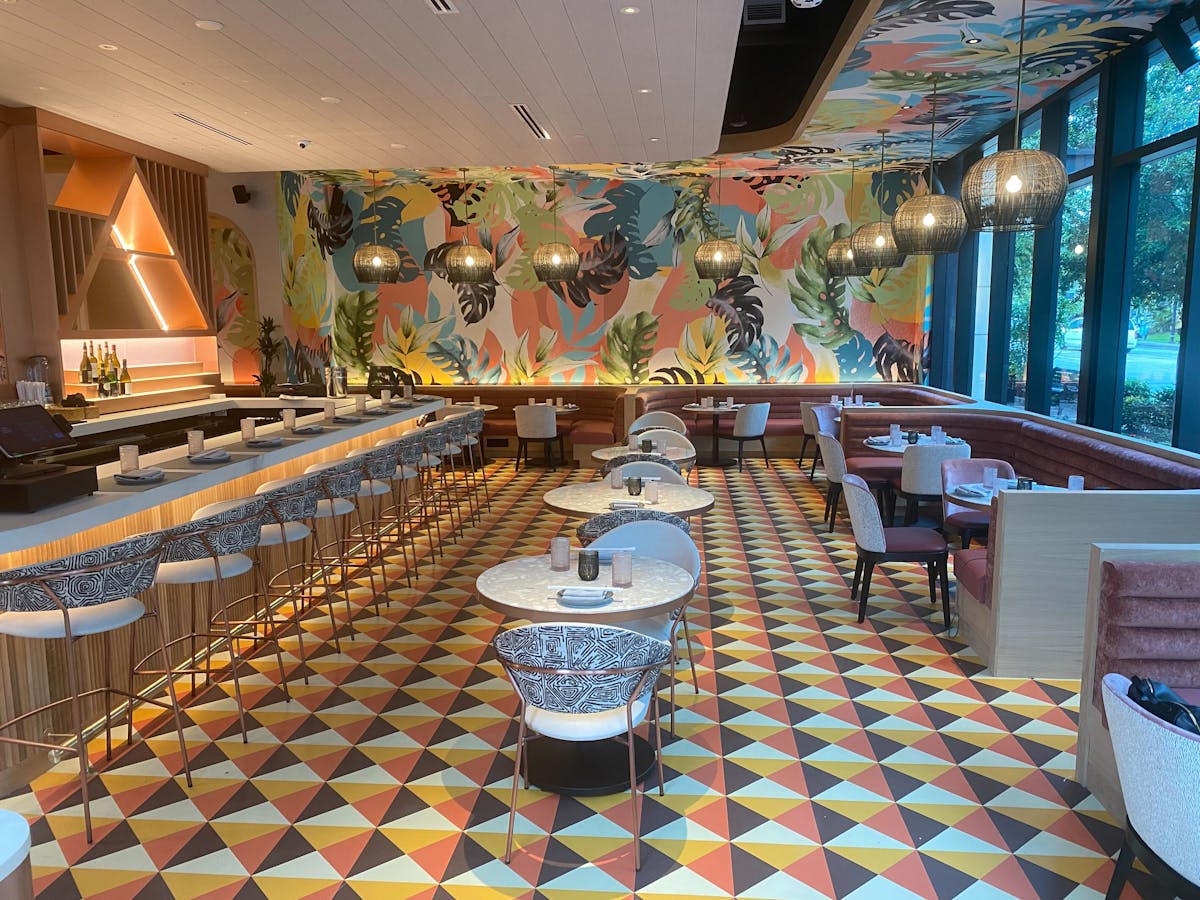 Menus
PLANT POWER LUNCH
Choose 1 starter + 1 signature from the below | cookie included | add dessert | sips as priced
Download PDF
Sushi
UNAGI EGGPLANT NIGIRI (2 PIECES)

miso truffle

AHI WATERMELON NIGIRI (2 PIECES)

ginger, citrus soy

CRISPY RICE

spicy ahi watermelon, avocado

TORCHED AND PRESSED

avocado, miso truffle glaze

DRAGON ROLL

tempura broccoli, spinach, avocado, spicy unagi sauce

SPICY TUNA ROLL

ahi watermelon, avocado, toasted coconut
Small Plates
WONTON SOUP

miso, cilantro, ginger, sesame

BABY GEM SALAD

orange, avocado, crispy shallot, plum vinaigrette

BAO SLIDER

chick'n fried mushroom, hoisin, pickled cucumber

STEAMED EDAMAME

chili, soy, maldon salt

BANG BANG BROCCOLI

sweet chili, peanut sauce

contains nuts

JAPANESE SWEET POTATO

torched miso, kimchi, furikake, cilantro, thai basil

SUMMER ROLLS (2 PIECES)

lettuce, cilantro, thai basil, hoisin, papaya, tofu, peanut sauce

contains nuts
Dumplings
SPINACH SHIITAKE

black bean, chili ginger vinaigrette

CRISPY GYOZA

cabbage, carrot, cilantro, mushroom, chili soy
Signatures
COLD SOBA NOODLES

kimchi, cucumber, marinated shiitake, pickled ginger, citrus soy, sesame

THAI LETTUCE WRAPS

shiitake mushrooms, tofu, lemongrass, crispy rice noodles, cilantro, nuoc cham

SINGAPORE NOODLES

curry, kale, peppers, cilantro, crispy shallots, thai basil, lime

UDON NOODLES

truffle mushroom cream, shaved black truffle

BREAKFAST BANH MI

scallion egg, hoisin, pickled vegetables, cilantro, thai basil

GENERAL D'S CAULIFLOWER

sesame, sweet chili

TRUFFLE FRIED RICE

shaved black truffle, mushroom bacon, peas, egg

AVOCADO LIME TARTARE

beetroot tuna, pine nuts, capers, citrus soy, sesame, cilantro, taro chips

contains nuts

PAD THAI SLAW

kelp noodles, green papaya slaw, lemongrass, coconut, cilantro, peanut sauce

contains nuts

QUEEN CAESAR

green papaya, kale, mushroom bacon, almond parmesan, yuba crisp

contains nuts

LEE'S CHOPPED SALAD

tomato, corn, sprouts, cabbage, peanuts, turmeric vinaigrette

contains nuts
Sips
VIETNAMESE ICED COFFEE

condensed coconut milk, espresso

SPECIALTY LATTES

golden milk: oat milk, turmeric, cinnamon, black pepper

drop the beet: espresso, oat milk, beet powder

it's a matcha: oat milk, matcha powder

LOOSE LEAF TEA

jasmine green, moroccan mint, chamomile

COLD & REFRESHING

hibiscus iced tea

oolong passion fruit iced tea

mint blueberry jasmine iced tea

cucumber mint lemonade
Sushi
UNAGI EGGPLANT NIGIRI (2 PIECES)

miso truffle

AHI WATERMELON NIGIRI (2 PIECES)

ginger, citrus soy

CRISPY MUSHROOM HAND ROLL

wasabi, baby gem, cucumber, avocado

CRISPY RICE

spicy ahi watermelon, avocado

TORCHED AND PRESSED

avocado, miso truffle glaze

BAKED CRAB ROLL

hearts of palm, spicy mayo, ponzu

SPICY TUNA ROLL

ahi watermelon, avocado, toasted coconut

DRAGON ROLL

tempura broccoli, spinach, avocado, spicy unagi sauce
Chilled & Raw
SPICY TUNA TACOS (2 PIECES)

ahi watermelon, alfalfa, jicama, thai basil, cilantro

QUEEN CAESAR

green papaya, kale, mushroom bacon, almond parmesan, yuba crisp

contains nuts

AVOCADO LIME TARTARE

beetroot tuna, pine nuts, capers, citrus soy, sesame, cilantro, taro chips

contains nuts

PAD THAI SLAW

kelp noodles, green papaya slaw, lemongrass, coconut, cilantro, peanut sauce

contains nuts
Small Plates
BAO SLIDER

chick'n fried mushroom, hoisin, pickled cucumber

BANG BANG BROCCOLI

sweet chili, peanut sauce

contains nuts

1,000 LAYER CRISPY POTATOES

caviar, sour cream, chives

JAPANESE SWEET POTATO

torched miso, kimchi, furikake, cilantro, thai basil
Dumplings
SPINACH SHIITAKE

black bean, chili ginger vinaigrette

CRISPY GYOZA

cabbage, carrot, cilantro, mushroom, chili soy

POTATO TRUFFLE

coconut lemongrass broth, truffle soy

SWEET CORN

tom yum, cilantro, chimichurri
Wok & Noodles
GENERAL D'S CAULIFLOWER

shishito, pineapple, sesame, sweet chili

THAI LETTUCE WRAPS

shiitake mushrooms, tofu, lemongrass, crispy rice noodles, cilantro, nuoc cham

BABY BOK CHOY

shiitake mushroom, garlic crisps, goji berries

SINGAPORE NOODLES

curry, kale, peppers, cilantro, crispy shallots, thai basil, lime

DAN DAN NOODLES

szechuan kamut, gai lan, coconut milk, sesame, cilantro

UDON NOODLES

truffle mushroom cream, shaved black truffle

TRUFFLE FRIED RICE

shaved black truffle, mushroom bacon, peas, egg
The Weekly Line-Up
MAKI MONDAY (AFTER 5 PM)

maki rolls

unlimited maki rolls

POUR DECISION WEDNESDAY (ALL DAY)

1/2 priced bottles of wine

DISCO & DUMPLINGS FRIDAY (AFTER 5PM)

dumpling platters

PLANT POWER WEEKDAY LUNCH (TIL 4PM)

starter, signature & a cookie

WEEKEND BRUNCH (TIL 4PM)

endless sake sangria & mimosas
Brunch Cocktails
BLOODY MARY

MIMOSA

SAKE SANGRIA

endless mimosas and sake sangria (ends at 4pm)
Lattes / Cappuccino
DROP THE BEET

espresso, oat milk, beet powder

IT'S A MATCHA

oat milk, matcha powder

GOLDEN MILK

oat milk, turmeric, cinnamon, black pepper

VIETNAMESE ICED COFFEE

condensed coconut milk, espresso

LOOSE LEAF TEA

jasmine green, moroccan mint, oolong
Sushi
UNAGI EGGPLANT NIGIRI (2 PIECES)

miso truffle

AHI WATERMELON NIGIRI (2 PIECES)

ginger, citrus soy

DRAGON ROLL

tempura broccoli, spinach, avocado, spicy unagi sauce

TORCHED AND PRESSED

avocado, miso truffle glaze

CRISPY RICE

spicy ahi watermelon, avocado

SPICY TUNA ROLL

ahi watermelon, avocado, toasted coconut
Chilled & Raw
SPICY TUNA TACOS (2 PIECES)

ahi watermelon, alfalfa, jicama, thai basil, cilantro

AVOCADO LIME TARTARE

beetroot tuna, pine nuts, capers, citrus soy, sesame, cilantro, taro chips

contains nuts

PAD THAI SLAW

kelp noodles, green papaya slaw, lemongrass, coconut, cilantro, peanut sauce

contains nuts

QUEEN CAESAR

green papaya, kale, mushroom bacon, almond parmesan, yuba crisp

contains nuts
SMALL PLATES
BAO SLIDER

chick 'n fried mushroom, hoisin, pickled cucumber

MONKEY BREAD

cinnamon glaze

BANG BANG BROCCOLI

sweet chili, peanut sauce

contains nuts

1,000 LAYER CRISPY POTATOES

caviar, sour cream, chives

CRISPY GYOZA

cabbage, carrot, cilantro, mushroom, chili soy

SPINACH SHIITAKE DUMPLINGS

black bean, chili ginger vinaigrette

SCALLION SESAME PANCAKE

chili oil, hoisin
Brunch Signatures
EGG FOO YOUNG

shiitake, carrots, cabbage, cilantro, steamed rice, miso gravy

FRENCH TOAST

corn flake granola, berry compote, maple syrup

BANANA WAFFLE

roasted pecans, maple syrup, chocolate sauce

contains nuts

OMELETTE

avocado, shaved truffle, scallion pancake

KIMCHI EGG FRIED RICE

scallions, pea, sesame doubanjiang sauce

OVERNIGHT GRAINS

quinoa, oats, chia, banana, peanut butter, strawberry, corn flake granola

contains nuts
Wok & Noodles
CHOW FUN NOODLES

egg, bok choy, scallions, truffle, chili oil

UDON NOODLES

truffle mushroom cream, shaved black truffle

TRUFFLE FRIED RICE

shaved black truffle, mushroom bacon, peas, egg

THAI LETTUCE WRAPS

shiitake mushrooms, tofu, lemongrass, crispy rice noodles, cilantro, nuoc cham

SINGAPORE NOODLES

curry, kale, peppers, cilantro, crispy shallots, thai basil, lime
The Weekly Line-Up
MAKI MONDAY (AFTER 5PM)

maki rolls

unlimited maki rolls

WEEKEND BRUNCH (TIL 4PM)

endless sake sangria & mimosas

POUR DECISION WEDNESDAY (ALL DAY)

1/2 priced bottles of wine

PLANT POWER WEEKDAY LUNCH (TIL 4PM)

starter, signature & a cookie

DISCO & DUMPLINGS FRIDAY (AFTER 5PM)

dumpling platters
COCKTAILS
LYCH PLEASE

hibiscus-infused gin, lychee, lemon, pineapple

HERB YOUR ENTHUSIASM

thai chili-infused tequila, lime, pineapple, mint, thai basil

SAKE TO ME

sake, orange liqueur, watermelon, lime

KOMBUCHA MOJITO

rum, berries, mint, lime, berry kombucha

MEZ-CAL ME MAYBE

mezcal, ginger liqueur, passionfruit, lime

KYU-KIKI

japanese whiskey, black sugar, ginger and angostura bitters
FREE SPIRITS
CUCUMBER MULE

seedlip garden 108, cucumber, rosemary, ginger beer

BEEN THERE THAI'D THAT

seedlip spice 94, watermelon, thai basil, yuzu, agave

MISO MANGO SOUR

yre's dark cane spirit, seedlip grove 42, lemongrass, madagascan vanilla, orange blossom, lime

SINGAPORE SPRITZ

roots divino, red citrus, exotic spices, sparkling grapefruit

SPICY NA-RITA

three spirit livener, lyre's italian orange, guayusa, guava, schisandra, cayenne, lime
JUICES & FIZZ
LIMEADE

ginger, mint, pure cane sugar

SUPREME GREEN

bok choy, kale, celery, spinach

ENTER THE DRAGON

dragon fruit, pineapple, coconut water, ginger

PLANTA PUNCH

beetroot, celery, apple, lemon

BLACK ROSE KOMBUCHA

grapefruit, rose, activated charcoal

PIÑA CALIENTE KOMBUCHA

pineapple, turmeric, cayenne
ONE CUP SAKE
KIRINZAN

classic futsu-shu

AOKI

yuki otoko "abominable snowman" junmai

HOUSUI

yamahai jikomi tokubetsu junmai

NAKAGAWA

komedake pure grain junmai
LARGE-FORMAT SAKE
HEAVENSAKE

junmai

HEAVENSAKE

junmai ginjo

HEAVENSAKE

junmai daiginjo

SOTO

junmai

SOTO

junmai daiginjo
BUBBLES & ROSÉ
PROSECCO

riondo, veneto, it, nv

ROSÉ

finca wölffer estate, mendoza, ar, 2021

SPARKLING ROSÉ

lucien albrecht, alsace, fr, nv

BLANC DE BLANCS

henri champliau, burgundy, fr, nv

ROSÉ

barton & guister, tourmaline, côtes de provence, fr, 2021

CHAMPAGNE

lanson, champagne, fr, nv
WHITE
GAVI

villa sparina, piedmont, it, 2021

SAUVIGNON BLANC

nautilus estate, marlborough, nz, 2021

PINOT GRIS

kracher, burgenland, at, 2019

CHARDONNAY

barnard griffin, colombia valley, wa, usa, 2021

RIESLING

fritz haag, mosel, fr, 2020

TREBBIANO DI LUGANA

zenato, lombardy, it, 2021

ASSYRTIKO

gai'a monograph, nemea, gr, 2020

VOUVRAY

domaine vincent carême, loire valley, fr, 2020

CHABLIS

domaine jolly, burgundy, fr, 2018
RED
TEMPRANILLO

cune, rioja, es, 2020

natural wine

PINOT NOIR

elouan, willamette valley, or, 2020

MALBEC

el burro, mendoza, ar, 2022

natural wine

CABERNET SAUVIGNON

one stone cellars, paso robles, ca, 2020

BARBERA

villa sparina, piedmonte, it, 2021

BORDEAUX

château de fontenille, bordeaux, fr, 2020

PETIT VERDOT

opaque, paso robles, ca, 2017

BEAUJOLAIS

château de la chaize, burgundy, fr, 2019

PINOT NOIR

böen, russian river valley, ca, 2021
BEER & CIDER
ELYSIAN SPACE DUST

ipa, wa 8.2%

KIRIN ICHIBAN

japanese style pilsner, jp 5.0%

ISLAMORADA ALE

blonde ale, fl 5.0%

SEASONAL ROTATING CIDER

local selections, fl
MATCHA CHEESECAKE

berry compote, coconut whip

BUBBLE WAFFLE SUNDAE

taro ice cream, rice crunch, black sesame caramel, strawberry

CHOCOLATE BROWNIE

vanilla ice cream, amarena cherry, peanuts, chocolate fudge

contains nuts

HOUSEMADE ICE CREAMS AND SORBETS

seasonal flavors
Sips
'TINIS

espresso: vodka, espresso, vanilla, cinnamon

dirty: vodka, castelvetrano olive brine

lychee: gin, lychee, lemon

SAKE TO ME

vodka, sake, watermelon, yuzu

SELECT WINES

SELECT BEER
Snacks
CRISPY MUSHROOM HAND ROLL

wasabi, avocado, gochujang, pickled ginger, unagi

SPICY TUNA HAND ROLL

ahi watermelon, avocado, toasted coconut

SUMMER ROLLS

cilantro, thai basil, hoisin, carrot, papaya, tofu, peanut sauce

contains nuts

KOREAN CHICK'N BAO

gochujang, kimchi, pickles

COLD PEANUT NOODLES

spicy peanut sauce

contains nuts

CAULI' KRACK

sweet chili mayo, sesame, unagi

CHICK'N FRIED MUSHROOMS

nuoc cham
FAQ
Is PLANTA Queen Fort Lauderdale a vegan restaurant?
Yes - PLANTA Queen offers 100% plant-based gluten-free and vegan dining in Fort Lauderdale.
Why plant-based?
At our plant-based Asian restaurant in Fort Lauderdale, we champion plant-based living as a way to better our health, our communities, and our planet.
Do you have gluten-free items?
Yup. Our gluten-free and vegan Fort Lauderdale restaurant items at PLANTA Queen include gluten-free vegan sushi and most of our "Chilled & Raw" items. Your server will be happy to help you navigate the menu.
What kind of plant-based dumplings do you have?
Our chefs love to use seasonal ingredients to update our menu of vegan dumplings in Fort Lauderdale, but staples include Spinach Shiitake Dumplings, Crispy Gyoza, Potato Truffle Dumplings, and Sweet Corn Dumplings.
What are your most popular dishes?
The Bang Bang Broccoli has a cult following (and its own merch), but don't sleep on our lineup of the best vegan sushi in Fort Lauderdale or the Wok & Noodles section, either.
Where in Fort Lauderdale is PLANTA Queen?
We're at 1201 E Las Olas Blvd, Fort Lauderdale, FL 33301. Our cross streets are E Las Olas Blvd and SE 12th Ave.
Where can I park?

Metered parking is available on East Las Olas Boulevard and in the public lot to the south east of the restaurant. There is also a parking lot opposite the restaurant in the Compass Garage.