Main content starts here, tab to start navigating
Planta | Bethesda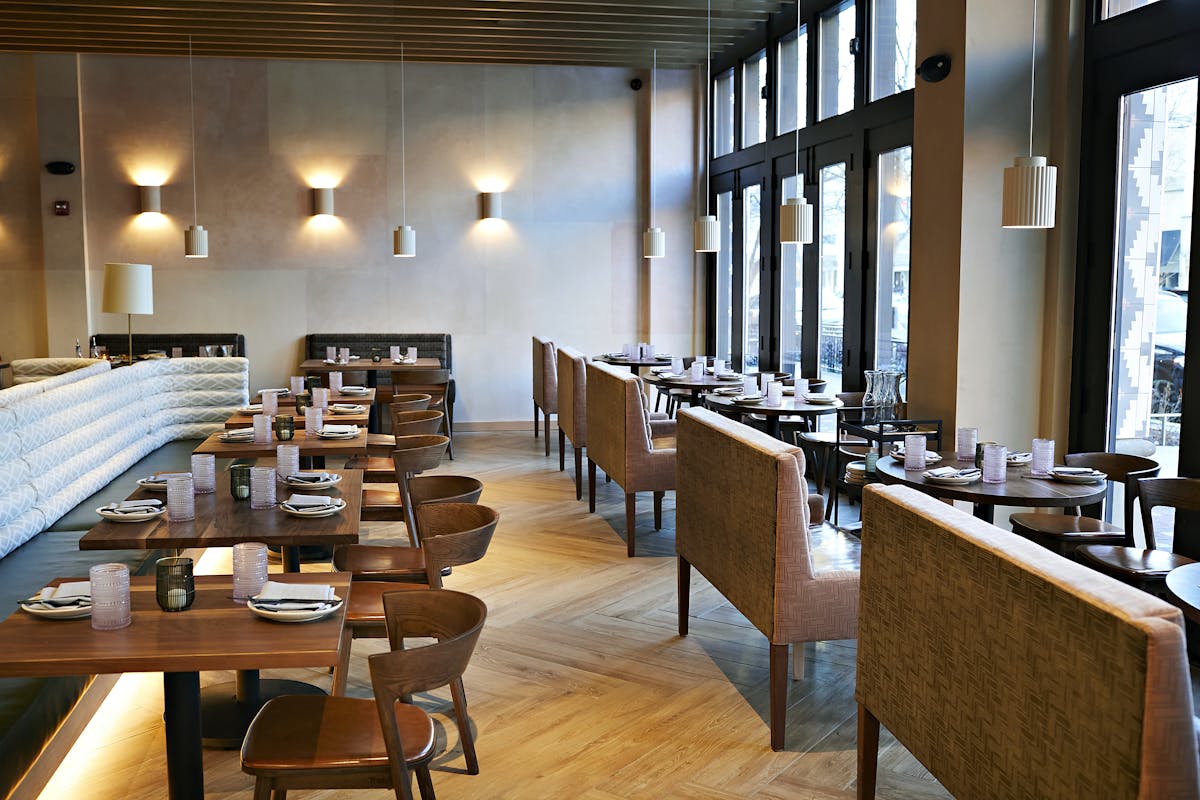 Menus
Plant Power Lunch
Choose 1 starter + 1 signature from the below | cookie included | add dessert | sips as priced
Download PDF
Sushi
UNAGI EGGPLANT NIGIRI (2 PIECES)

miso truffle

AHI WATERMELON NIGIRI (2 PIECES)

ginger, citrus soy

CRISPY RICE

spicy ahi watermelon, avocado

SPICY TUNA ROLL

ahi watermelon, avocado, toasted coconut

TORCHED AND PRESSED

avocado, miso truffle glaze

DRAGON ROLL

tempura broccoli, spinach, avocado, spicy unagi sauce
Snack & Share
BABY GEM CAESAR

mushroom bacon smoked tempeh, almond parmesan, pickled onion, capers

contains nuts

FUNGHI SALAD

gem lettuce, candied tomatoes, avocado, buttermilk dressing

BAO SLIDER

chick'n fried mushroom, hoisin, pickled cucumber

BANG BANG BROCCOLI

sweet chili, peanut sauce

contains nuts

SPINACH SHIITAKE DUMPLINGS

black bean, chili ginger vinaigrette

1000 LAYER CRISPY POTATOES

caviar, sour cream, chives
The Weekly Line-Up
MAKI MONDAY

maki rolls | unlimited maki rolls (after 5pm)

POUR DECISION WEDNESDAY

1/2 priced bottles of wine (all day)

WEEKEND BRUNCH

endless mimosas & sake sangria
Signatures
AVOCADO LIME TARTARE

beetroot tuna, pine nuts, capers, citrus soy, sesame, cilantro, taro chips

contains nuts

PAD THAI SLAW

kelp noodles, green papaya slaw, lemongrass, coconut, cilantro, peanut sauce

contains nuts

PLANTA BURGER

lettuce, tomato, queso, onion, pickle, mustard, mayo served with truffle fries or salad

contains nuts

THAI LETTUCE WRAPS

shiitake mushrooms, tofu, lemongrass, crispy rice noodles, cilantro, nuoc cham

SPICY LUMACONI PASTA

tomato rosé sauce, cashew mozzarella, almond parmesan, calabrese chili

contains nuts

SPAGHETTINI CARBONARA

mushroom bacon, smoked tempeh, cracked pepper, almond parmesan

contains nuts

THE ITALIAN

focaccia, maitake, eggplant, red peppers, grilled onions, ricotta, arugula, basil, balsamic

WTF

focaccia, watermelon, tzatziki, alfalfa, basil, balsamic

THE BIG GREEN

focaccia, hummus, avocado, sprouts, zucchini, pepperoncini

LEE'S CHOPPED SALAD

tomato, corn, sprouts, cabbage, peanuts, goji berries, turmeric vinaigrette

contains nuts
Sips
VIETNAMESE ICED COFFEE

condensed coconut milk, espresso

SPECIALTY LATTES

Golden Milk: oat milk, turmeric, cinnamon, black pepper

Drop the Beet: espresso, oat milk, beet powder

It's a Matcha: oat milk, matcha powder

LOOSE LEAF TEA

jasmine green, Moroccan mint, chamomile

Cold & Refreshing

Hibiscus Iced Tea

Oolong Passion Fruit Iced Tea

Mint Blueberry Jasmine Iced Tea

Cucumber Mint Lemonade
Sushi
UNAGI EGGPLANT NIGIRI (2 Pieces)

miso truffle

AHI WATERMELON NIGIRI (2 Pieces)

ginger, citrus soy

MUSHROOM BACON INARI (2 PIECES)

yuzu kosho

CRISPY RICE

spicy ahi watermelon, avocado

SPICY TUNA ROLL

ahi watermelon, avocado, toasted coconut

BAKED CRAB ROLL

hearts of palm, spicy mayo, ponzu

TORCHED AND PRESSED

avocado, miso truffle glaze

DRAGON ROLL

tempura broccoli, spinach, avocado, spicy unagi sauce
Chilled & Raw
BABY GEM CAESAR

mushroom bacon, smoked tempeh, almond parmesan, pickled onion, capers

contains nuts

PAD THAI SLAW

kelp noodles, green papaya slaw, lemongrass, coconut, cilantro, peanut sauce

contains nuts

FUNGHI SALAD

gem lettuce, candied tomatoes, avocado, buttermilk dressing

AVOCADO LIME TARTARE

beetroot tuna, pine nuts, capers, citrus soy, sesame, cilantro, taro chips

contains nuts

LEE'S CHOPPED SALAD

tomato, corn, sprouts, cabbage, peanuts, goji berries, turmeric vinaigrette

contains nuts
Snack & Share
BAO SLIDER

chick'n fried mushroom, hoisin, pickled cucumber

WHIPPED RICOTTA

warm bread, truffle, agave drizzle

BANG BANG BROCCOLI

sweet chili, peanut sauce

contains nuts

1,000 LAYER CRISPY POTATOES

caviar, sour cream, chives

SPINACH SHIITAKE DUMPLINGS

black bean, chili ginger vinaigrette

MAITAKE YAKITORI

citrus soy, ginger scallion sauce
Pizza
MARGHERITA

tomato sauce, cashew mozzarella, garlic, basil

contains nuts

SPICY CHORIZO

tomato sauce, cashew mozzarella, potato chorizo, onion, hot agave

contains nuts

LEEK BIANCA

garlic cream, cashew mozzarella, mushroom bacon

contains nuts

VODKA

tomato cream, cashew mozzarella, basil pesto, chili bomba

contains nuts

HAWAIIAN

bbq sauce, cashew mozzarella, pineapple, smoked tempeh, red onion, pickled jalapeños, ranch

contains nuts
Signatures
PLANTA BURGER

lettuce, tomato, queso, onion, pickle, mustard, mayo

served with truffle fries or salad

contains nuts

THAI LETTUCE WRAPS

shiitake mushrooms, tofu, lemongrass, crispy rice noodles, cilantro, nuoc cham

peanut free

SPICY LUMACONI PASTA

tomato rosé sauce, cashew mozzarella, almond parmesan, calabrese chili

contains nuts

UDON NOODLES

truffled mushroom cream, shaved black truffle

SPAGHETTINI CARBONARA

mushroom bacon, smoked tempeh, cracked pepper, almond parmesan

contains nuts

EGGPLANT ROLLATINI

tomato sauce, spinach, broccoli rabe, basil pesto

contains nuts
The Weekly Line-Up
MAKI MONDAYS (AFTER 5 PM)

maki rolls

unlimited maki rolls

POUR DECISION WEDNESDAYS (ALL DAY)

1/2 priced bottles of wine

WEEKEND BRUNCH (TIL 4PM)

endless mimosas & sake sangria

PLANT POWER WEEKDAY LUNCH (TIL 4PM)

for starter, signature & a cookie
Something to Sip
VIETNAMESE ICED COFFEE

condensed coconut milk, espresso

LOOSE LEAF TEA

jasmine green, moroccan mint, chamomile
Lattes | Cappuccino
GOLDEN MILK

oat milk, turmeric, cinnamon, black pepper

DROP THE BEET

espresso, oat milk, beet powder

IT'S A MATCHA

oat milk, matcha powder
Brunch Cocktails
BLOODY MARY

MIMOSA

SAKE SANGRIA

ENDLESS MIMOSAS & SAKE SANGRIA

(ends at 4 pm)
Sushi
UNAGI EGGPLANT NIGIRI (2 PIECES)

miso truffle

AHI WATERMELON NIGIRI (2 PIECES)

ginger, citrus soy

CRISPY RICE

spicy ahi watermelon, avocado

TORCHED AND PRESSED

avocado, miso truffle glaze

DRAGON ROLL

tempura broccoli, spinach, avocado, spicy unagi sauce

SPICY TUNA ROLL

ahi watermelon, avocado, toasted coconut
Chilled & Raw
YOGURT PARFAIT

passion fruit drizzle, corn flake granola, mint

OVERNIGHT GRAINS

quinoa, oats, chia, banana, peanut butter, strawberry, corn flake granola

contains nuts

BABY GEM CAESAR

mushroom bacon, smoked tempeh, almond parmesan, pickled onion, capers

contains nuts

AVOCADO LIME TARTARE

beetroot tuna, pine nuts, capers, citrus soy, sesame, cilantro, taro chips

contains nuts

FUNGHI SALAD

gem lettuce, candied tomatoes, avocado, buttermilk dressing

LEE'S CHOPPED SALAD

tomato, corn, sprouts, cabbage, peanuts, goji berries, turmeric vinaigrette

contains nuts
Snack & Share
BAO SLIDER

chick'n fried mushroom, hoisin, pickled cucumber

MONKEY BREAD

cinnamon glaze

DEVILED EGG LETTUCE CUPS

avocado, dill, sprouts, pickled onion

LATKES & CAVIAR

sour cream, apple sauce

BANG BANG BROCCOLI

sweet chili, peanut sauce

contains nuts

SPINACH SHIITAKE DUMPLINGS

black bean, chili ginger vinaigrette

WHIPPED RICOTTA

warm bread, truffle, agave drizzle
Brunch Signatures
BANANA WAFFLE

roasted pecans, maple syrup, chocolate sauce

contains nuts

THAI LETTUCE WRAPS

shiitake mushrooms, tofu, lemongrass, crispy rice noodles, cilantro, nuoc cham

LOADED BREAKFAST SANDWICH

potato chorizo, eggs, cilantro, hot honey, shoestring onions

THE ITALIAN

focaccia, maitake, eggplant, red peppers, grilled onions, ricotta, arugula, basil, balsamic

contains nuts

PLANTA BURGER

lettuce, tomato, queso, onion, pickle, mustard, mayo. served with truffle fries or salad

contains nuts

FRENCH TOAST

corn flake granola, berry compote, maple syrup

AVOCADO FLATBREAD

tomato, pickled onions, olive oil, almond parmesan, cilantro, arugula

contains nuts

SPICY LUMACONI PASTA

tomato rosé sauce, cashew mozzarella, almond parmesan, calabrese chili

contains nuts
Pizza
MARGHERITA

tomato sauce, cashew mozzarella, garlic, basil

contains nuts

HAWAIIAN

bbq sauce, cashew mozzarella, pineapple, smoked tempeh, red onion, pickled jalapeños, ranch

contains nuts

VODKA

tomato cream, cashew mozzarella, basil pesto, chili bomba

contains nuts

LEEK BIANCA

garlic cream, cashew mozzarella, mushroom bacon

contains nuts

SPICY CHORIZO

tomato sauce, cashew mozzarella, potato chorizo, onion, hot agave

contains nuts
Cocktails
KOMBUCHA MOJITO

rum, berries, mint, lime, berry kombucha

LYCH PLEASE

hibiscus-infused gin, lychee, lemon, pineapple

PINK FLAMINGO

vodka, grapefruit, hibiscus, lime

MEZ-CAL ME MAYBE

mezcal, ginger liqueur, passionfruit, lime

HERB YOUR ENTHUSIASM

thai chili-infused tequila, lime, pineapple, mint, thai basil

CHARCOAL BOURBON SOUR

bourbon, aquafaba, lemon, activated charcoal
FREE SPIRITS
non-alcoholic
CUCUMBER MULE

seedlip garden 108, cucumber, thyme, rosemary, ginger beer

SATURDAY MORNING CARTOONS

seedlip grove 42, strawberry, pineapple, coconut milk, vanilla

MISO MANGO SOUR

lyre's dark cane spirit, seedlip grove 42, lemongrass, madagascan vanilla, orange blossom, lime

SINGAPORE SPRITZ

roots divino apéritif rosso, red citrus, exotic spices, sparkling grapefruit
Cold-Pressed Juices
EASY BEING GREEN

pineapple, kale, cucumber, apple, lemon, ginger

THAT'S MY JAM-U

turmeric, ginger, lemon, agave nectar

NOTORIOUS OBG

orange, beet, ginger

BLUE I.V.

blueberry, lemon, agave, cayenne, ginger
Beer & Cider
STELLA ARTOIS

lager, belgium (5% abv)

MANOR HILL

amber ale, maryland (5.3% abv

JAILBREAK

feed the monkey, orange hefeweizen, maryland (5.6% abv)

RAR

nanticoke nectar, ipa , maryland (7.4% abv)

BOLD ROCK

dry cider, virginia (5% abv)
Sake
HEAVENSAKE

junmai, 720ml

HEAVENSAKE

junmai ginjo, 720ml

HEAVENSAKE

junmai daiginjo
Bubbles
ROSÉ CRÉMANT

louis vallon, bordeaux, france, nv

PROSECCO

santa margherita, veneto, italy, nv

CHAMPAGNE

piper heidsieck, cuvée brut, champagne, france, nv
White
PINOT GRIGIO

riff, venice, italy 2021

CHENIN BLANC

kaapzicht, stellenbosch, south africa 2021

SAUVIGNON BLANC

françois lurton, gascony, france 2021

CHARDONNAY

dominio de punctum, castile-la mancha, spain 2021
Rosé & Skin Contact
ROSÉ

vine to bottle, languedoc-roussillon, france 2022

VIOGNER

(orange) yalumba, south east australia 2021
Red
GAMAY

depagneux, beaujolais, france 2020

PINOT NOIR

mark cellars, california 2021

TEMPRANILLO/GARNACHA

navardia, rioja, spain 2021

CABERNET SAUVIGNON

decoy, california 2020

PINOT NOIR

bryn mawr, willamette valley, oregon 2019
Non-Alcoholic
RIESLING

kolonne null, mosel, germany, 2022
BIG COOKIE

add a scoop of ice cream

KEY LIME CHEESECAKE

coconut whip, lime zest, oat crust

CHOCOLATE BROWNIE

vanilla ice cream, amarena cherry, peanuts, chocolate fudge

contains nuts

HOUSEMADE ICE CREAMS AND SORBETS

seasonal flavors
Sips
'TINIS

espresso: vodka, espresso, vanilla, cinnamon

dirty: vodka, castelvetrano olive brine

lychee: gin, lychee, lemon

MEZ-CAL ME MAYBE

mezcal, ginger, passionfruit, lime

SELECT WINES

SELECT BEER
Snacks
CRISPY MUSHROOM HAND ROLL

wasabi, avocado, gochujang, pickled ginger, unagi

SPICY TUNA HAND ROLL

ahi watermelon, avocado, toasted coconut

CAESAR CUPS (3 PIECES)

baby gem, pickled onion, almond parm, garlic dressing

contains nuts

NASHVILLE HOT TOFU BAO (2 PIECES)

pickles, lettuce, ranch

CHICK'N FRIED MUSHROOMS

nuoc cham

CAULI' KRACK

sweet chili mayo, sesame, unagi

SPINACH AND ARTICHOKE DIP

cashew mozzarella, tortilla chips

contains nuts
FAQ
Is PLANTA Bethesda a vegan restaurant near DC?
PLANTA Bethesda is 100% plant-based.
Why plant-based?
We champion plant-based living as a way to better our health, our communities, and our planet.
Do you have gluten-free items?
Yup. Our gluten-free and vegan Bethesda restaurant items at PLANTA include gluten-free vegan sushi, vegan gluten-free pizza, most of our "Chilled & Raw" items, and more. Your server will be happy to help you navigate the menu.
What kind of plant-based pizza do you have?
Our signature woodfired plant-based vegan pizza in Bethesda is topped with cashew mozzarella and more.
What are your most popular dishes?
The Bang Bang Broccoli has a cult following (and its own merch), but don't sleep on our lineup of the best plant-based vegan sushi in Bethesda and DC, either.
Where in Bethesda is PLANTA?
We're on Bethesda Row at 4910 Elm St, Bethesda, MD 20814. Our cross streets are Elm St and Woodmont Ave.
Where can I park?

The closest parking garage is next door on Elm Street, on your right you will see a sign with a capital P as you drive towards WoodMont Avenue.